Consider the impact of seemingly inconsequential events. The prolific sci-fi author, Isaac Asimov, wrote a short story chronicling a time traveler who, back in the age of dinosaurs, stepped off the path and inadvertently killed an insect.
When the traveler returned to the present time, language and the environment had changed. The insect was food for another creature, which consequently starved, and so on cascading through the eons. The eventual impact was catastrophic.
Allen looks like the ideal employee.
Allen is an enthusiastic producer who appears to have a great future with you. Every day he arrives ready to go to work, and your bottom line reflects his drive.
And then life happened.
Allen is married to Elaine, a pediatric nurse, now six months pregnant. After they were married they lived in Allen's cramped apartment, saving every dime to buy their dream home. Three months ago, they found it – with a room for the baby and a pretty backyard.
They spent every one of those saved-up dimes and today, after paying the bills and mortgage they have exactly $348 until payday. Oh, by the way, it's November, in the northeast, and when Allen and Elaine woke up this morning, the house was chilly.
Allen poked at the thermostat a few times to no avail. Then he called the heating guy, who declared the furnace dead from hard work and old age. "I'm surprised it lasted so long." A new furnace will cost $4,800.
And that's the backstory which is about to impact your business.
Too busy to be busy.
Allen is not productive at work today. He is distracted; anxiously calling, emailing and trying to figure out how he's going to get the money to pay for a new furnace. He's also playing "If only…". If only we'd saved more money. If only we had a home warranty. If only the baby wasn't coming. Instead of being busy with work, Allen is busily preoccupied with solving his current financial crisis.
Allen is exhibiting classic signs of 'presenteeism,' a syndrome David Kilby highlights in his book, The New Productivity Engine. He's there, in the office, but he's not at work.
Financial wellness is both an employee and employer benefit.
A financial wellness program might have saved Allen, Elaine, and you. It's the employee benefit that, according to Consumer Financial Protection Bureau (CFPB) calculations, actually pays for itself several times over. Not only does a financial wellness program help employees save and use their money wisely, and prepare for emergencies, financial wellness also benefits employers, by providing higher levels of employee satisfaction and retention, encouraging employee commitment and loyalty, and increasing productivity.
Still, some employers are hesitant to offer a financial wellness program.
In his book, David Kilby asks the ultimate question: "Are you prepared to pay the high cost of doing nothing?" He cites a long list of employer downsides including theft and fraud, increased employee turnover, more health and disability insurance claims, and the occurrence of accidents caused by stress and depression. All of these incur costs that eat away at profitability and productivity.
"The best way to fix a financial problem, is to replace the cause of the problem with a practical, responsible financial solution." David Kilby's belief
Employee engagement means being inspired to do their best.
The CFPB defines an 'engaged employee' as being satisfied with their job, their employer and working conditions. They are enthusiastic and committed to the mission of their employer. They are also ready to deliver any extra effort needed to help their organization succeed. The secret of engagement, Kilby notes, "Appears to be the difference between just satisfying people at work, and inspiring them to do their best work."
As for Allen, here's the worst case: He falls behind on projects, misses errors, the budget is blown, clients are unhappy, and Elaine has moved back to her parents' house – where they have heat. Allen has ceased to be an engaged, productive employee, and is now just one step from being an ex-employee.
A culture for relieving employee financial stress.
In The New Productivity Engine, David Kilby recommends that employers enable a business-wide culture that delivers an environment for helping relieve employee financial stress through education and financial solutions.
"The reward for implementing financial wellness programs, is increased productivity with the good possibility for a significant ROI." David Kilby
As Kilby says often, "That's a win-win for everyone." And, maybe a new furnace for Allen and Elaine.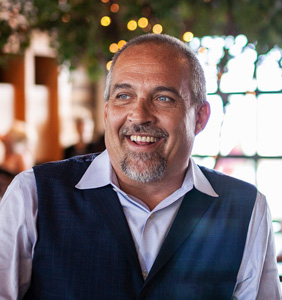 David Kilby has been president of FinFit since it was founded in 2008. He has grown the company from a single idea into the nation's leading Financial Wellness Benefit platform, servicing over 150,000 clients. Prior to FinFit, David led a multimillion-dollar financial holding company where he was inspired to find ways to help employees improve their financial health. He is committed to helping employees succeed today, and prepare to live healthier, more productive, financially stable lives.
Get in touch with him – he'd love to talk to you about your company, your employees and how he can help.