The concept of financial wellness as a highly desirable employee benefit is spreading rapidly across the U.S. This is confirmed by Prudential's 10th annual Benefits and Beyond: Employer Perspectives on Financial Wellness. The data shows that 83 percent of the employers surveyed are offering financial wellness, compared to just 20 percent in 2015.
There are at least two good reasons for this, in my opinion.
One: Employees Want It
Offering financial wellness benefits improves recruiting and hiring better job candidates.
Employers want to attract and hire the brightest and best. While employees may be seeking a wide variety of qualities in an employer, one of the top factors is health insurance. And, according to the 14th Annual MetLife U.S. Employee Benefits Trends Study, 67 percent of them want available consultation on financial education – in other words, they want financial wellness.
It's no wonder that employees want help. In The New Productivity Engine, I talk about American workers having financial heart attacks because over half of them have less than $1,000 in savings, and 21 percent don't even have a savings account. In fact, 67 percent of Americans say they have difficulty paying their household expenses on time. A recent report by the Federal Reserve of New York reveals that more than seven million Americans are 90 days or more behind in their car payments.
Employees want financial wellness as a benefit
That means that millions of Americans are in dire need of the kind of personal financial education and solutions offered by financial wellness. And they know it.
A car repair, medical bill or other unexpected payment can cause incredible stress that negatively impacts personal and work lives. Our school and college systems seldom offer courses in personal finances. Workers may be trained to do their jobs, but they don't know how to handle their money on payday.
Prospective employees are practically begging employers to offer financial wellness as a benefit because they know they need it – and know it will benefit them.
Two: Employers want it
Financial wellness programs have a positive effect on employee productivity, say 57 percent of employers, according to a 2018 Investopedia.com study.
Productivity, employee retention and engagement are three key employer metrics.
Let's look at 'engagement' first.
Seventy percent of American workers are not engaged in their work, according to Gallup's State of the American Workplace. The same report says companies with an engaged workforce are 21 percent more profitable. The share prices of publicly traded companies show similar results. Other benefits include improved health, improved safety, better customer service and better personal relationships.
Well, that's a great start. How about 'employee retention?'
Many millennials, the new core of workers coming on the scene, are starting their careers saddled with student loan debt. Some are hoping federal law will allow them to discharge the obligation in personal bankruptcy, but this is probably a false expectation and fraught with difficulty.
But there is hope. Comprehensive financial wellness platforms are now offering student loan assistance components that may help to spread out payments and lower the overall payback requirement.
American Student Loan Assistance® found 86 percent of millennial employees would stay with their current employer for at least five years if a student loan relief benefit was offered.
 'Productivity?' Refer to the above
If employees have all the benefits of engagement and retention, their productivity will be higher. If nothing else, they will spend more time on the clock doing actual work, and far less time on their personal financial problems.
If financial wellness benefits are spreading across the country, driven by workers and employers alike, can we predict a result?
Data from the Department of Labor, released in early March 2019, shows productivity grew at a 1.9 percent annual rate in the fourth quarter of 2018 – capping the strongest nine-month stretch of growth in the past decade.
My belief is at least part of that growth is due to the growth of financial wellness benefits across America. Employers are offering employee benefits that reduce stress and increase productivity. The result: engaged workers who are healthier, more productive and, quite probably, much happier.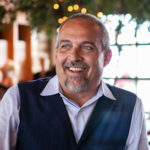 David Kilby has been president of FinFit since it was founded in 2008. He has grown the company from a single idea into the nation's leading Financial Wellness Benefit platform, servicing over 150,000 clients. Prior to FinFit, David led a multimillion dollar financial holding company where he was inspired to find ways to help employees improve their financial health. He is committed to helping employees succeed today, and prepare to live healthier, more productive, financially stable lives.
Get in touch with him – he'd love to talk to you about your company, your employees and how he can help.